Yet another great week where you have all blown us away with your projects. We can't say it enough but want to thank you all for the continued generousity you all show each other, week by week, by always kindly sharing techniques and projects is "out of this world" and the crafting community is very "rich" indeed.


Now we have
3 things to shar
e
with you this week and we will begin by announcing a brand new sponsor to "Fab'n'Funky" this week. So without further ado, put your hands together for . .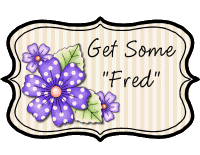 The lucky randomly chosen winner will receive a voucher to spend in the shop . . lucky crafty so and so! All you need to do, is enter this week challenge to be in with a chance of winning this FAB prize.
Now onto the
2nd thing
. . .
OOohhhh what do we mean . . . don't panic we're not asking you to part with money etc but we would like your help in organising the "Fab'n'Funky" DT in October. Normally the DT get together and throw some theme ideas into the air, vote on them and then turn the favourites ideas into our themes for the month.
Now for October
we would like YOU to VOTE on the themes YOU would like to see in October!
We have had a "good think" and come up with loads of different themes and they are shown in a poll at the top of the challenge blog. Please
choose at least 3 of your favourite theme ideas on the poll

.
You have until the close of this weeks challenge to vote, so there is plenty of time.
We will then count the votes and the TOP 3 ideas will become challenges themes in October 2010
.
So what do you think? It's a small way of the DT girls making you, our loyal weekly supporters have a bigger part in the "Fab'n'Funky" challenge blog and also we wanted to say "thank you" for all your support this year so far. We would appreciate your help in this "quest" and nervously await your decision!
Now the
3rd thing
to share is that our new DT members are playing along with us this week too . . how exciting, so please give them a warm welcome.
Now this weeks theme may seem a little tricky but what it's actually designed to do is for you to use an item that you probably haven't used in ages . . . your "long" sentiment stamps or digi phrases . . or even your own phrases. So this weeks challenge is called . .

We would like you to look through your stash . . . and we all have a mountain or 2 of that (!) and is there a neglected sentiment stamp, digi etc hiding in a corner that you purchased but have never known what to do with it?!?!? We're not talking about the standard phrases we all use daily on our projects but the longer, quote phrases that caught our eye but we have yet to use them. Well this week, we would like you to use this "quote sentiment / phrase" in your project and to get the ball rolling the DT have some inspiration to share with you all . . .
Emma

Andrea

Karen (NEW DT)

Ginny

Heidy (NEW DT)

Shelly (NEW DT)

Sharon (NEW DT)

Suzanne (New DT)

Have a great "crafty" week everyone and we are looking forward to you sharing those quotes or saying with us all.
The Fab'n'Funky DT